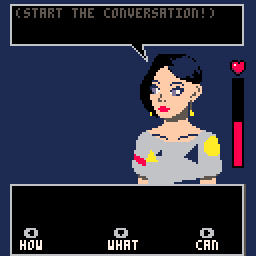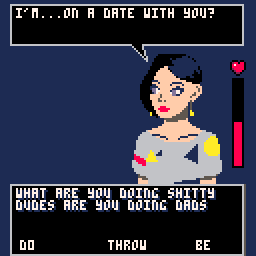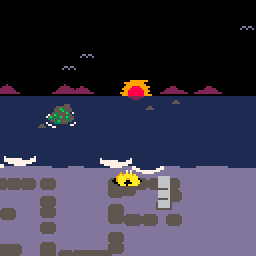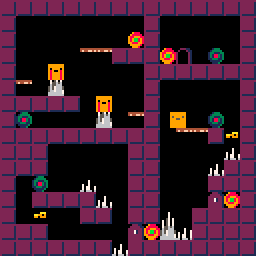 Pico 8 is a bite-sized development platform designed to foster creativity through the limitation of development resources. I got to know it during sophomore year, where I took a class that required students to make one prototype in Pico 8 every week.
The class was among the best I've taken at NYU. I stretched my design and coding skills to their limits and found myself rapidly improving as a developer from week to week. It taught me how to better scope projects, how to cut features that aren't working, and how vital prototyping ideas can be to judging a larger design idea.
Below are my six best prototypes.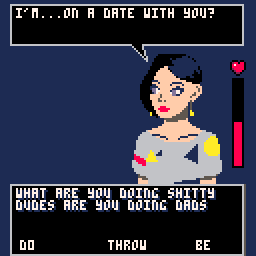 iPhone word autofill + dating sim.
Players stumble and mumble their way through a rocky first date one word at a time. Giving compliments has never been harder.
​
Controls are left, down, and right arrow.
You can play it here.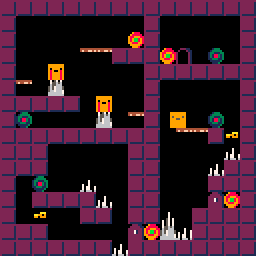 One button Lemmings.
Half action game, half puzzle game, every tap both spawns a minion and performs the actions of minions already spawned. Fast-paced but requires thoughtful problem solving.
​
Controls are pressing X.
You can play it here.
Atmospheric, old school adventure game puzzles in space.
Players wander through a sunless solar system filled with gibberish-speaking characters. They must solve difficult logic puzzles using their radio in order to complete a mysterious task.
​
Controls are arrow keys and X.
You can play it here.
Pico 8 DJing app using loops.
Cart comes pre-loaded with a ton of short loops written by me or taken from songs. Blue is melody, green is bass, red is drums, and yellow is chords. Test and judge combinations.
​
Controls are mouse and X.
You can play it here.
Open-ended art piece game about what you do when stranded on a beach.
Players, as a crab, dig up sand, build sand towers, and make seaweed flags. What your shore looks like is up to you.
​
Controls are arrow keys, Z and X.
You can play it here.
Simple isometric turn-based strategy game.
Players throw teams of four at one another and weigh decisions based on probability. Moving closer to the opponent is rewarding, but may come at a cost.
​
Controls are arrow keys, Z and X.
You can play it here.