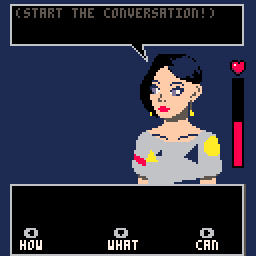 PIXEL PROTOTYPE
Pico-8 is a bite-sized development platform designed to foster creativity through the limitation of development resources.
All of my projects featured here were developed in under a week, using Pico-8 and Lua. Developing in this game jam style taught me how to better scope projects, cut features that aren't working, and test and prototype early when judging your concept.
Below are my five best prototypes.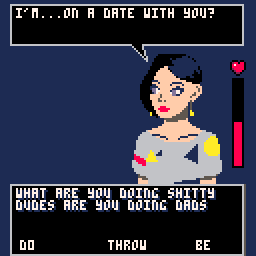 iPhone word autofill + dating sim.
Players stumble and mumble their way through a rocky first date one word at a time. Giving compliments has never been harder.
​
Controls are left, down, and right arrow.
You can play it here.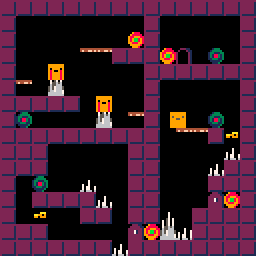 One button Lemmings.
Half action game, half puzzle game, every tap both spawns a minion and performs the actions of minions already spawned. Fast-paced but requires thoughtful problem solving.
​
Controls are pressing X.
You can play it here.
The ghost of a planet tries to communicate.
Players wander through a sunless solar system filled with gibberish-speaking characters. They must solve difficult logic puzzles using their radio in order to complete a mysterious task.
​
Controls are arrow keys and X.
You can play it here.
Pico 8 DJing app using loops.
Cart comes pre-loaded with a ton of short loops written by me or taken from songs. Blue is melody, green is bass, red is drums, and yellow is chords. Test and judge combinations.
​
Controls are mouse and X.
You can play it here.
Stranded on an empty beach.
Players, as a crab, dig up sand, build sand towers, and make seaweed flags. What your shore looks like is up to you.
​
Controls are arrow keys, Z and X.
You can play it here.